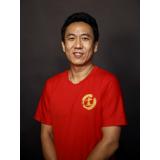 A graduate from the Beijing Sport University, Coach Shang Yu has been invited to countries like the United States and Australia to coach and share his expertise in Wushu.
In 2010, Coach Shang Yu was also the chief choreographer for the item 'Robo Warriors' in Singapore's National Day Parade.
Coach Shang Yu is a prominent athlete of the elite Beijing Wushu Team and has been a Wushu instructor in Singapore for the past five years. Over the years, he has worked with many MOE schools.
Coach Shang Yu's strength lies in his experience in competitive Wushu when he was training in the elite Beijing Wushu Team.
PROFESSIONAL QUALIFICATIONS
Singapore National Wushu Federation Wushu Coach certification

National Registry of Coaches (NROC) registered

First-Aid & AED-CPR certification

Ministry of Education (MOE) registered

National Standards for Youth Sports (NSYS) Certification

Certified Wushu Judge & Coach–Wushu 'Dan' Certificate (Chinese Wushu Association)

Bachelor Degree (Beijing Sport University)